3 Best Electric Pressure Cooker Recipes: You Can Make at Home
Get Started With Easy Electric Pressure Cooker Recipes
Here are some easy and great recipes to get you started with your electric pressure cooker.
Cooking with a pressure cooker not only can greatly speed the preparation of your dinners, but it can be a healthier way of preparing your meals as well.
Pressure cooking allows foods to retain more of their nutrients, vitamins, and minerals than other cooking processes.
For most of these recipes, you will also need a small cutting board, knife, and small mixing bowl. The average preparation time is about 15 to 20 minutes, so add that to the cooking time to know how when you need to start in order to make dinner happen on time.
You can adjust the amounts in each recipe to serve more or fewer people and most of these meals also freeze well. Where the recipe calls for a "cold water pressure release," simply run the sealed cooker under cold water for 5 minutes and then open it.
Below, you'll find our best pressure cooker recipes, so please enjoy them and let us know how you liked them!
1.  Herbed Garlic Mashed Potatoes – Pressure Cooker Recipes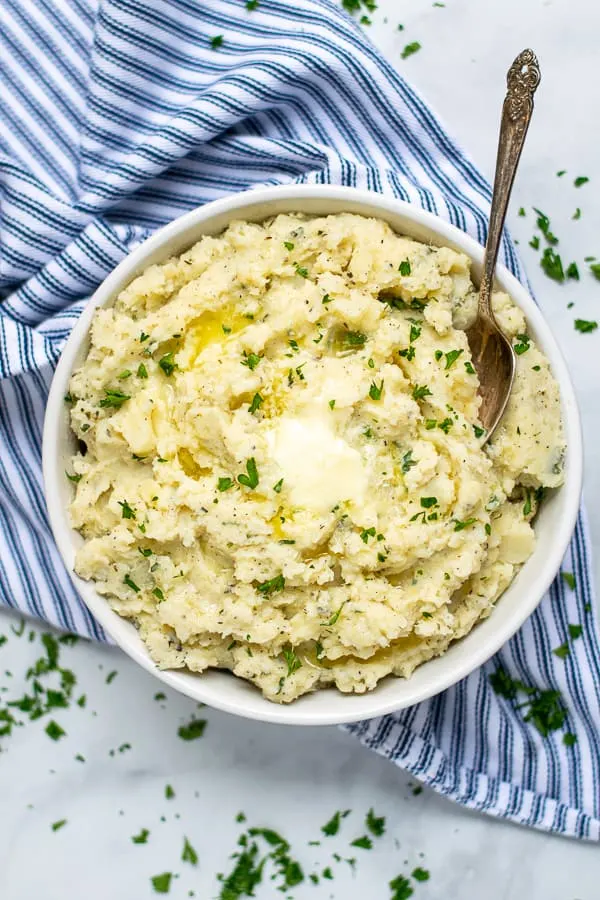 We all love mashed potatoes, especially when there's garlic in the mix. This super easy garlic mashed potatoes pressure cooker recipe is one of our best and favorites! Hope you enjoy it and please let us know how it turned out.
Serves: 4-6
Cooking Time: 6 min
For the Herbed Garlic Mashed Potatoes Electric Pressure Cooker Recipes, You Will Need:
Pressure cooker
Stovetop saucepan
Mixer
3 potatoes
1 cup chicken broth
1 cup warm skim milk
2 tablespoons olive oil
1 tablespoon minced thyme
1/2 teaspoon powdered garlic
1/2 teaspoon dry rosemary
1/2 teaspoon salt
1/4 teaspoon pepper
3 cloves of garlic, minced
Preparation:
Peel and cube the potatoes. Mince the garlic if needed although you can save time if you purchase the pre-minced kind.
Mix the oil and skim milk together in a stovetop saucepan. Gently warm the milk and boil while stirring constantly.
Add the potatoes, garlic, and broth together in the pressure cooker. Seal the cooker and bring it up to high pressure. Cook for six minutes.
Release the pressure.
Drain all but about a ¼ cup of broth from the pressure cooker.
Add the milk and oil to the cooker and use a mixer to beat the mixture until the potatoes are fluffy.
Season with herbs, salt, and pepper.
2. Pot Roast Pressure Cooker Recipe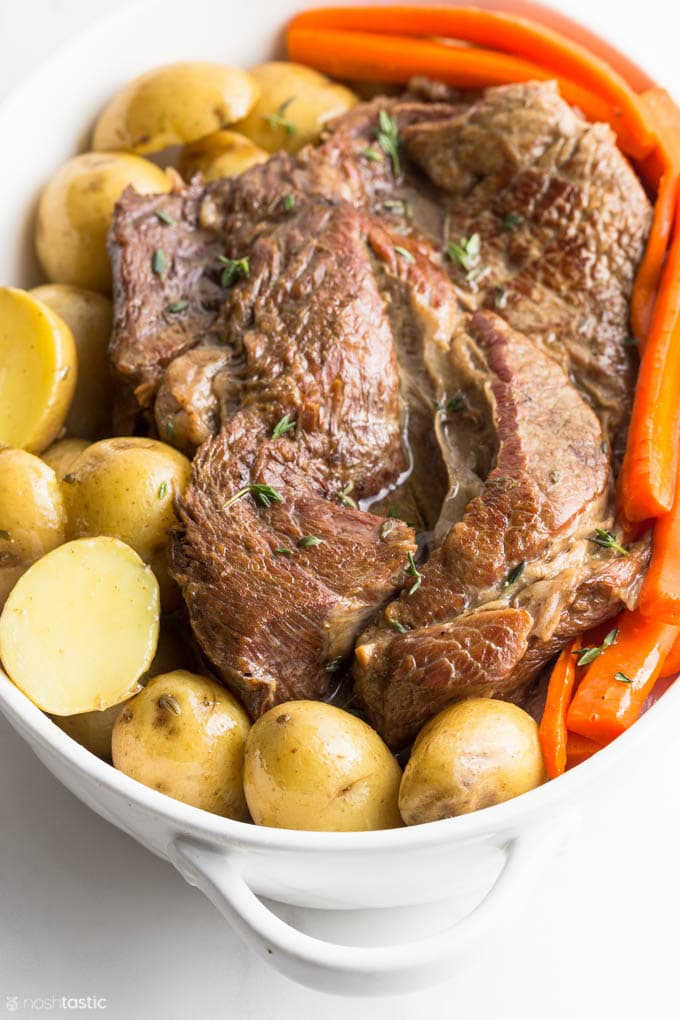 When it comes to homemade meals, nothing is more special than a nice pot roast. Whoever is lucky enough to get to enjoy this pot roast pressure cooker recipe will be showering you with praises.
With a pressure cooker, the cooking time is cut down tremendously versus the conventional oven way. Not only that, all of the natural juices from the beef will not evaporate, so the meat will come out nice and moist.
What you do with the pot roast is entirely up to you. Just to give you a couple of ideas, you can do sandwiches or just complement it with our garlic mashed potatoes recipe. We hope you enjoy this recipe and would love to get your feedback.
Serves:  6
Cooking Time: 45 minutes
For the Pot Roast Pressure Cooker Recipe, You Will Need:
Cooking fork
Dicing knife
Can opener
Pressure cooker
Small mixing bowl
2 tablespoons vegetable oil
3 pound beef chuck roast
1 large onion, diced
1 (1 ounce) package dry Italian salad dressing mix
1 (1 ounce) package dry Ranch-style dressing mix
1 (1.2 ounce) package brown gravy mix
1 (14.5 ounce) can beef broth
Preparation
Pour oil into the pressure cooker and heat it on medium with the lid off
Using the cooking fork, brown the roast in the oil
Combine the salad dressing and gravy mixes in a small bowl
Sprinkle the mix over the roast in the cooker, turning the roast so it is evenly coated
Add the beef broth and one diced onion
Seal and lock pressure cooker
Cook on high until pressure is reached
Turn the heat down to medium and cook for 45 minutes
Turn off the cooker and let stand for 5 minutes
Release the pressure using the cold water technique (run cold water over the cooker)
Unseal and serve using the juices as an au jus gravy
3. Poached Salmon Pressure Cooker Recipe
This poached salmon pressure cooker recipe is a must-try for those who enjoy eating healthy fish dishes. The pressure cooker is able to keep all of the flavors of the fish without losing any of the valuable nutrients such as omega-3 fatty acids.
Not only that, this dish takes only 4 minutes to cook. The time it takes for you to prep, cook, and serves this dish will be shorter than many of the dishes you have ever made.
Serves: 4
Cooking Time: 4 min
For the Poached Salmon Pressure Cooker Recipe, You Will Need:
Pressure cooker
Basket for a pressure cooker
16 ounces salmon fillet with skin
4 scallions, trimmed
Zest of 1 lemon
3 black peppercorns
1/2 teaspoon fennel seeds
1 teaspoon white wine vinegar
1 bay leaf
1/2 cup dry white wine
2 cups chicken broth
1/4 cup fresh dill
Salt and Pepper
Preparation
Put the basket in the cooker
Flavor the fish with salt and pepper
Place the fillet in the basket
Cover the fish with the broth, wine, and vinegar  before adding in the rest of the ingredients
Close and lock before bringing  to pressure on high heat
Reduce heat to medium-low and cook for 4 minutes at high pressure.
Release pressure using the cold water method.
Remove the salmon and place on serving plate
Pour the remaining broth over the fish and serve